Professor Adrian Fung
BSc(Med), MBBS(Hons1), MMED (Ophthal. Sci.), MMED (Clin. Epi.) with merit, FRANZCO
Vitreo-retinal Surgery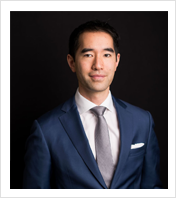 Adrian Fung is Head of the Westmead Hospital Vitreoretinal Unit and a specialist in vitreoretinal surgery, medical retina diseases and posterior segment tumours of the eye. He is a Clinical Professor at Macquarie University Hospital and Clinical Associate Professor at the University of Sydney. He has Masters degrees in Ophthalmic Science and Clinical Epidemiology from the University of Sydney and completed four clinical and research fellowships in the United States and Canada.
Professor Fung has published over 100 international peer-reviewed journal articles and 7 book or book chapters, including "Vitreoretinal Surgery for Trainees" (www.ophthalmologytextbooks.com). He is a Principal Investigator of the Bionic Eye Project, Golden Geographic Atrophy and Velodrome Port Delivery System trials. He is Editor for Retinal Cases and Brief Reports and Medical Retina Section Editor for Clinical and Experimental Ophthalmology. He has been invited to speak and teach at over 100 national and international meetings in Australasia, North America and Europe. He was awarded the RANZCO Teacher of Excellence Award in 2019. He is amongst the first retinal surgeons in Australia to be admitted to the Macula and Retina Societies in the USA and received the Macula Society Travel Grant Award in 2020.
Professor Fung is the course convenor for Ophthalmology Updates! (www.ophthalmologyupdates.com), one of the largest ophthalmology conferences held in Sydney each year. He is an APVRS Councillor and is Chair of the RANZCO Clinical Standards Committee. He sits on the RANZCO Scientific Congress, RANZCO NSW Branch ASM, Sydney Eye Hospital Alumni, ORIA, RANZCO Clinical Standards, ANZSRS Surgical Registry, Fight Tumour Blindness and APVRS Young Ophthalmologists committees. He is a member of RANZCO, ANZSRS, ORA, AAO, ASRS, ARVO, Macula Society, Retina Society, Vit-Buckle Society, Lifeline Express International Academy, ISOO, IRGIII, IntRIS, APAO and APVRS. He is an APVRS Leadership Development Program Mentor and a RANZCO RACE Examiner.
Professor Fung's interest include epiretinal membrane, macular hole, retinal detachment, macular degeneration, diabetic retinopathy, retinal vascular occlusions and retinal and choroidal tumours. He will take the time to answer your questions, explain the best course of treatment and put you at ease. In addition to English he speaks basic Mandarin and Cantonese.
Medical School & Postgraduate Degrees
University of New South Wales
University of Sydney
Ophthalmology Residency
Retinal Fellowship
Vitreoretinal surgery, University of British Columbia, Vancouver, Canada.
Medical retina, VRMNY and Manhattan Eye and Ear Hospital, New York, USA.
Uveitis (research scholar), Bascom Palmer Eye Institute, Miami, USA.
Ocular oncology (research scholar), Wills Eye Hospital, Philadelphia, USA.
Hospital/Academic Appointments
Central Coast Day Hospital
Westmead Hospital
Clinical Professor, Macquarie University Hospital
Clinical Associate professor, University of Sydney
Area of Specialisation
Vitreoretinal and macular surgery
Medical retina diseases
Posterior segment ocular oncology