Dr John Leaney
Associate
MBBS, BEng(Chem)(Hons), PhD, FRANZCO
Glaucoma
Neuro-ophthalmology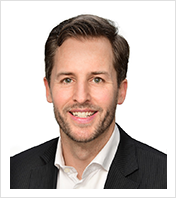 Dr John Leaney is a glaucoma specialist, neuro-ophthalmologist and cataract surgeon. John is a dual fellowship trained ophthalmologist specialising in glaucoma and neuro-ophthalmology. He performs cataract and glaucoma surgery with experience in a wide range of glaucoma surgical treatments including trabeculectomy, Baerveldt tube insertion and Xen implantation.
John undertook his medical training at Sydney University followed by internship and residency at Prince of Wales Hospital. This was followed by a PhD looking at early detection of glaucoma using electrical impulses from the brainat Macquarie University under Professor Stuart Graham.
John commenced ophthalmology training at Sydney Eye Hospital in 2012, completing training in 2016. He then undertook a neuro-ophthalmology fellowship at the prestigious Moorfields eye hospital where he was involved in research dealing with the differentiation of glaucoma from other optic nerve diseases. Following this he spent a year at Addenbrookes Hospital under the tutelage of Professor Keith Martin. The fellowship involved the treatment of both medical and surgical glaucoma with a focus on inflammatory causes of glaucomatous disease. During his time at Addenbrookes hewas also an investigator a multi-national trial looking at implantable long term glaucoma treatment.
John is an honorary associate at the University of Sydney and has published in many journals including IOVS, Ophthalmology and Current Eye Research. He is currently involved in a multi-centre trial investigating the requirements for neuro-imaging in different types of optic nerve diseases.