Dr Ross Ferrier
MBBS, FRANZCO
General Ophthalmology
Strabismus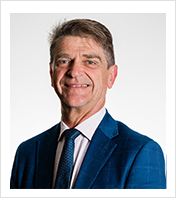 Dr Ross Ferrier is a general ophthalmologist with interests in treating cataract, glaucoma, strabismus (squint or lazy eye), eyelid and lacrimal disease, children's ophthalmology and medical issues affecting the retina such as diabetes, glaucoma, macular degeneration and vascular disease.
Dr Ferrier undertook basic medical training at the University of New South Wales. Training in Ophthalmology was undertaken at Sydney Eye Hospital with time spent in Southampton, Winchester and Cambridge in the United Kingdom obtaining further experience.
Currently Dr Ferrier is a Visiting Medical Officer at the Central Coast Local Area Health Service and has operating privileges at Central Coast Day Hospital. Dr Ferrier has a financial interest in Central Coast Day Hospital.