Dr Bradley Townend
BSc(Med), MBBS, MPH(Hons), MMed, FRANZCO, AMA(M)
General Ophthalmology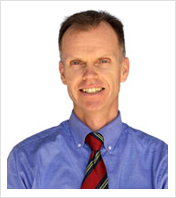 Dr Brad Townend enjoys living and working on the Central Coast with his wife and children. He completed his medical degree with honours at the University of NSW and went on to subsequently complete a master's degree in Public Health at UNSW. Following this Brad completed a master's degree in Ophthalmic science at the University of Sydney. He worked for several years at Gosford, Tuggerah and John Hunter Hospitals before completing 5 years of extensive eye training through Sydney Eye Hospital. He is a Fellow of the Royal Australian and New Zealand College of Ophthalmologists, and a member of the Australian Cataract and Refractive Surgery Association.
Brad is a clinical associate lecturer in Ophthalmology at the University of Sydney and has done extensive research into various aspects of ophthalmology, including the identification of number of risk factors for cataract formation. This research has been published in number of international ophthalmology journals. Brad also has an interest in how nutrition can play a role in the formation and protection of eye disease, he has recently written a book entitled Eye Nutrition in order to give patients useful and practical information on how to eat their way to good eye health.
Brad participates in regular work for the Fred Hollows Foundation and previously took 6 months 'off work' and worked for the Fred Hollows Foundation in Nepal, the Pacific islands and Alice Springs. This work has enabled him to contribute to the eye health of thousands of patients in under-privileged areas, and as a result Brad has learned a lot about the world, ophthalmology and himself during these adventures!
Brad is currently in private practice at Coastwide Eye Surgery and serves as an ophthalmologist. He operates at Central Coast Day Hospital, Berkeley Vale Private Hospital and both Gosford and Tuggerah public hospitals where he acts as the head of department for ophthalmology. Brad plays on the Gosford Hospital basketball team and enjoys the saxophone, cricket and cycling.